Dedicated Server Launcher
This article or section is not currently implemented within the game.

This may be because this article or section is taken from the game files, but has not yet been implemented, or may have been removed in a patch.
It may be possible to spawn this npc/creature/item via the admin panel.
If you have further information on this, please note it on this article.
| | | |
| --- | --- | --- |
| " | Setting up your own server isn't necessarily the easiest thing in the world and so one of our Tools Programmers whipped up a launcher in order to improve the process. | " |
| | ~ Patches and Things, Funcom Forums | |
The Dedicated Server Launcher lets you easily get over some common hurdles you might run into when trying to set up your own server, and you'll easily be able to set your admin password, change ports, change server region, change the max player count, test port availability on your router, and even switch between Default and Testlive. You don't need to deal with command lines and everything is presented in a clean and visually simplified user interface.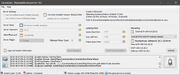 Once it's been downloaded all you have to do is run the program, edit the parameters you want, and simply hit a button to start your server. As mentioned this will be made available on our forums (for free) and will at some point become available as part of the game client.