Scholar's Note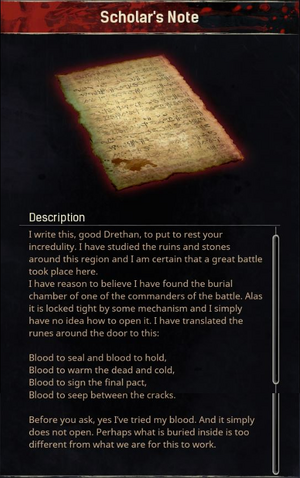 The Scholar's Note, found outside the cave of The Barrow King.
I write this, good Drethan, to put to rest your incredulity. I have studied the ruins and stones around this region and I am certain a great battle took place here. I have reason to believe I have found the burial chamber of one of the commanders of the battle. Alas it is locked by some mechanism and I simply have no idea how to open it. I have translated the runes around the door to this:
Blood to seal and blood to hold, Blood to warm the dead and cold. Blood to sign the final pact, Blood to seep between the cracks.
Before you ask, yes I've tried my blood. And it simply does not open. Perhaps what is burried inside is too different from what we are for this to work.
TeleportPlayer -272930.03125 -109831.90625 3203.305176